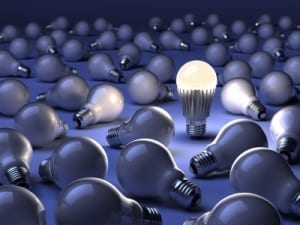 LED corn lights offer numerous environmental benefits, are affordable, and work well for commercial use. You may not think too much about the lighting in your Clearwater workplace, because after all, isn't a bulb just a bulb? There are thousands of different kinds of light bulbs and other fixtures available on the market, and selecting which one is the best for you can be difficult. You don't want to buy the wrong product either, because bulbs can be expensive.
What Are LED Corn Lights?
LED corn lights are a type of lighting fixture that takes advantage of light-emitting diode technology. The difference between these bulbs and other light-emitting diodes is the shape and layout of the diodes. These bulbs resemble a corncob, hence their name. The 'kernels' are the diodes, and are laid out in strips going down the base of the bulb. Clearwater businesses use these bulbs for outdoor utilities like streetlamps, parking lot illumination, and pathway luminaries.
90% of the energy used by these luminaries is used for illumination, with only 10% waste. Compare that to 90% of incandescent energy being wasted as emitted heat, and that's a lot of energy savings.
LED Lighting Benefits
Up front, it may seem like LED corn lights are expensive, but the market is expanding and they will only start to decrease in cost as time goes on. Plus, they have a long lifespan and much lower energy use, so they cost much less in the long run. Making the switch in Clearwater right now will save you so much money that in just two years you will reach a return on investment.
Long life. 50,000 hours of life, without dimming or losing efficiency.
Low energy use. These bulbs use only 20%-25% of the energy that traditional bulbs do.
Color changes. Mainly used as traffic and indicator signals, these come in a variety of bright colors. The red, blue, and green diodes combined are capable of producing 16 million colors.
Environmentally-friendly. They contain no mercury, so disposal doesn't harm the earth, unlike fluorescent bulbs. They also don't have harmful emissions or gases.
Reduce energy bill. At least a 20% reduction and ROI of 2 years is guaranteed.
These bulbs are easy replacements for 40W, 60W, 75W incandescent bulbs, and especially fluorescents, so switching to LED corn lights in Clearwater is a cinch.
Buying the Right Bulbs
Buying the right bulbs can be tricky, as there are many false claims and under-tested products available online. When shopping, look for the following as signs that you are purchasing a product that is safe, effective, and legitimate.
Electrical safety. UL certification means the product has been tested for quality and meets the standards set by the Underwriters Laboratory. UL is a worldwide safety testing and certification company based in the United States.
Made in the USA. Many online stores ship from overseas, where the electrical standards are different. USA-made products not only support your country, but ensure you'll be using the correct voltage.
Saving Energy
According to the US Department of Energy, 49 million light-emitting diodes were installed in 2012. This change saved around $675 million in annual energy costs. They estimate that switching over completely to products like LED corn lights in the next twenty years could save the US $250 billion in annual energy costs, as well as reduce lighting-related electricity consumption by 50%. Get a head start in Clearwater by contacting an energy management service.
ECO Energy Management
At ECO Energy Management, our mission is to change the way everyone sees Clearwater, literally. Our technology and lighting solutions are American-made, so you know you're getting the best quality available. Our special retrofitting system is perfect for those with fluorescent lighting already installed; the switch to LED corn lights is easy and produces much less waste while increasing your ROI. We offer additional services like an energy survey and monitoring tools, AC power saving, refrigeration power saving, and intelligent motor control for your company. Call us today at (727) 444-4414 for a free energy survey and to learn more about how we can reduce your electric bill!