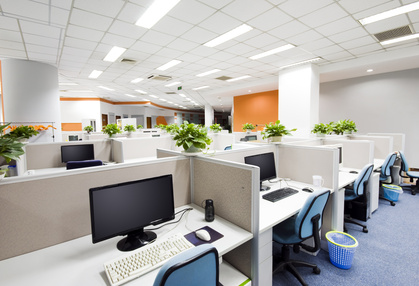 LED fluorescent lighting replacements are a simple way for Tampa, St. Petersburg, and Clearwater Florida businesses to save 20 – 40% off their monthly power bills. And with an ROI of less than 2 years, this can usually be acomplised with no out of pocket expenses. Any forward thinking and environmentally conscious company can benefit from the services we offer while also benefitting the planet through reduced CO2 emissions.
The Problems with Fluorescent Tubes
Before we get into the benefits of LED fluorescent lighting, it helps to know all of the facts about fluorescent lighting systems. Typical 4' fluorescent tubes use 32w of electricity, plus any power used by the ballast they need to operate. Of these 32w, 80% is given off as waste heat, with only 20% actually being converted into light.
Commercial grade fluorescent tubes are rated at 20,000 hours; however, after only 8,000 hours of run time, the amount of light they put off reduces by 40%, yet they still draw the same amount of electricity. This is a best case scenario because many businesses compound the problem by buying replacement tubes at home stores where the quality is lower and with a rating of only 10,000 hours. What you really need is to find the best commercial grade LED fluorescent lighting supply company that has the best LED tubes to replace and retrofit old fluorescent tubes.
Fluorescent lights also contain harmful chemicals that hurt the environment, and with 500 million tubes being thrown away each year, they create a serious environmental concern. Businesses can face significant fines if they dispose of tubes improperly.
This is why switching to money saving and more environmentally conscious lighting method is so important. ECO Energy Management is your best commercial LED fluorescent lighting supplier in Florida. We sell retail and are wholesale suppliers to electric contractors and construction trades.
Benefits of LED Fluorescent Lighting
The LED lighting solutions we provide at ECO Energy Management offer the following benefits:
LED lighting converts up to 90% of energy into light with only 10% waste

4' LED fluorescent lighting tube replacements require only 18w per tube, which is nearly half that of fluorescent, yet put off higher lumens per square foot

Our LED plates can replace all 400w halogen bulbs used for parking lots and require only 120w, which equals huge energy savings!

We can retrofit all existing fixtures, which significantly lowers installation costs and increases your ROI

All of our lighting solutions are rated with a 50,000 hour lifespan

With LED fluorescent tube replacements, the intensity and quality of light does not degrade over time
Our energy saving solutions can benefit clients around the Tampa, St. Petersburg, and Clearwater areas, such as:
Warehouses

Hospitals

Office Buildings

Car Dealerships