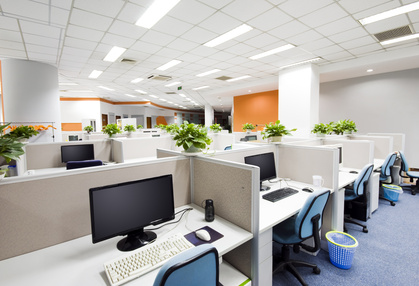 LED fluorescent lighting replacements are a simple way for Tampa, St. Petersburg, and Clearwater Florida businesses to save 20 – 40% off their monthly power bills. And with an ROI of fewer than 2 years, this can usually be accomplished with no out of pocket expenses. Any forward thinking and environmentally conscious company can benefit from the services we offer while also benefitting the planet through reduced CO2 emissions.
The Problems with Fluorescent Tubes
Before we get into the benefits of LED fluorescent lighting, it helps to know all of the facts about fluorescent lighting systems. Typical 4' fluorescent tubes use 32w of electricity, plus any power used by the ballast they need to operate. Of these 32w, 80% is given off as waste heat, with only 20% actually being converted into light.
Commercial grade fluorescent tubes are rated at 20,000 hours; however, after only 8,000 hours of run time, the amount of light they put off reduces by 40%, yet they still draw the same amount of electricity. This is a best case scenario because many businesses compound the problem by buying replacement tubes at home stores where the quality is lower and with a rating of only 10,000 hours. What you really need is to find the best commercial grade LED fluorescent lighting supply company that has the best LED tubes to replace and retrofit old fluorescent tubes.
Fluorescent lights also contain harmful chemicals that hurt the environment, and with 500 million tubes being thrown aw